Do you know the classic expression on nutrition from Grande Covián (1984)? The key to healthy eating is: «little of everything and a lot of nothing". Well, this rule can be applied to all areas of your life, including work. If you notice that there are many hours dedicated to work, too much attention and other signs that you will read below, you may have a work addiction problem known in its English expression as workaholism.
Detect work addiction
You already know some of the pathologies associated with work. Due to excess and mismanagement: the burnout; and out of apathy and demotivation: the boreout. The first thing is to distinguish the causes and motivations. You should differentiate between being a motivated and committed professional with the objectives of your position to be a workaholic. Some signs that can manifest an unhealthy inclination towards work and that you must observe to stop the drift where you do not want to go are these:
You don't allow yourself a break. You hook one task with another until exhaustion. Holidays seem like a waste of time to you.
24/7 connection, that is, available any day at any time. Going out to the country without Wi-Fi? You can't stand it.
You put your «needs» first in front of any family or environment demand. Ego is coming.
Pending tasks invade all spaces from home, even bed with your partner, to check emails on the tablet.
Delegate It is a word that you do not understand and you think that if you do not do it, it will not turn out well. Confidence in coworkers is conspicuous by its absence.
Difficulty, if not absolute inability, to admit that you do not know something, or that you cannot do something, or simply say no», especially your boss. Setting the limit or claiming your rights seem like a failure to you.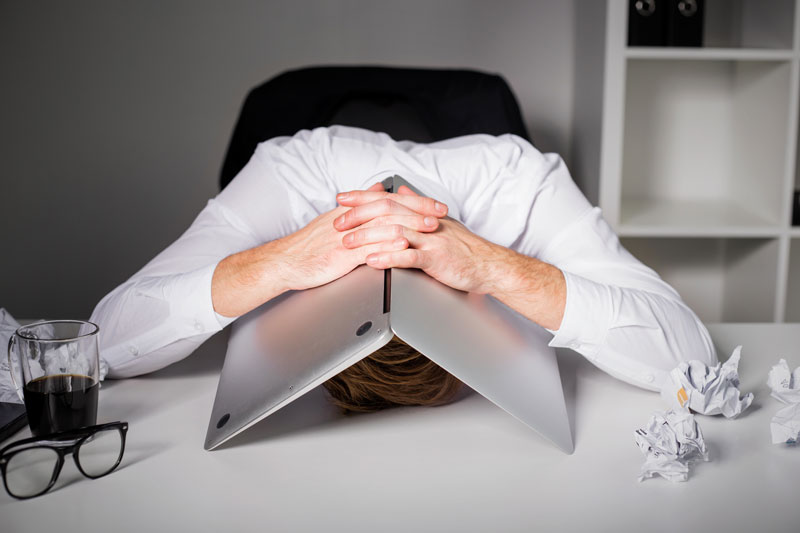 Work to live, and not the other way around
Developing an addiction to work has a detrimental impact on your health, not only in the social or emotional aspect indicated, it can also complicate your physical condition in the medium / long term. Those who do not rest and live with high levels of stress, have all the ballots to manifest pictures of anxiety, problems of stomach and diseases of the heart. And we don't mean lovesickness!
Many studies have linked job uncertainty, increasing due to the pandemic, with the fear of losing my job. This can be the trigger to fall into that situation where you literally «live to work.» Against other addictions, this is recognized, even promoted, in some work environments. The goal, however, will be to achieve a smart working: be productive and effective reconciling with the rest of the aspects of our life.
Guidelines to avoid work addiction
If you recognize yourself in some of the signs displayed, Is the moment to act. Follow these simple tips and you will be able to redirect the discomfort towards objectives smart:
Meets schedules and routines and force yourself to disconnect minimum before dinner. Yeah that means not looking mails or review pending tasks.
Practice sport, take care of the feeding and the break (minimum 7 hours) and dedicate time to a hobby, like going on a field trip or joining a book club.
Detect fatigue and stop in time: that the disease does not have to stop you.
Establishes priorities in the «pending» list. This is a basic tool for productivity and balance between the work and personal aspects of your life.
And in case you see that you need it, ask for help, to a coach or to a psychologist. It is not a sign of weakness, but a sign of being a conscientious and good professional.