Almost a year has passed since the first confinement and in many companies teleworking continues. And it is likely that in the coming weeks there will be stricter lockdowns that will involve the return to teleworking of many people. Against this background, we offer some tips to improve the organization and get through the day remotely.
Environmental aspects of the remote day
As everything indicates that this is going to take longer than it seemed at first, it will be essential create a workspace at home in the best possible conditions. This involves looking for a good source of natural light (taking care that there are no reflections on the screens that disturb the view), a place noise free and where you can get one comfortable temperature.
To protect the healthy division between work and the rest of the day's activities, it is recommended delimit a workplace and that this is always the same. It can be the same space shared with other uses, but conditioned with everything you need to work. But, it is important that, at the end of the day, that space can regain its appearance and functions for the house. Collect everything related to the work and keep it, so that it is not visible and avoid the temptation to continue working once the day has ended. Both the work environment and the rest, leisure or family environment must be created starting from the same rooms, so the elements that we see will have to be differentiated depending on the moment.
In this sense it is also important that there be order to keep the space free of distractions.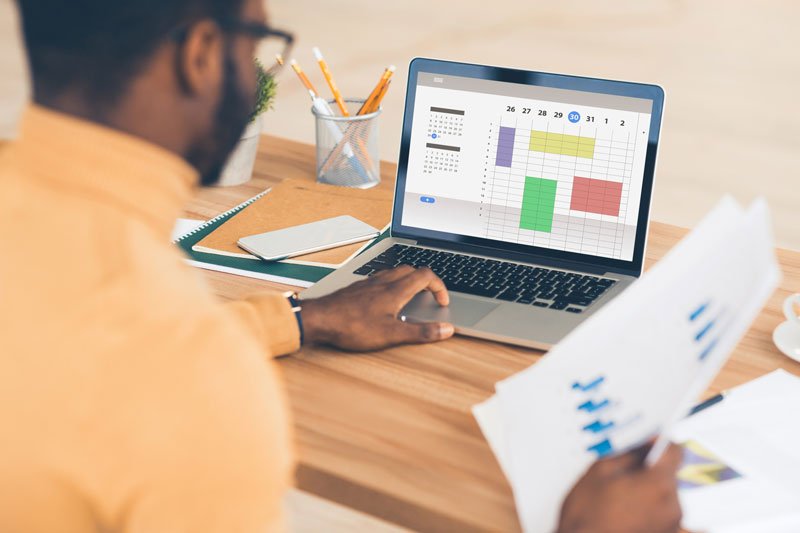 How to better organize yourself by working remotely
As for the tips to improve the organization working from home, these are some of the tips that have been more interesting to us. According to all the sources consulted, of which we give you some reference below, it is highly recommended to keep a routine. Similar to the one that is followed when you go to work: toilet, breakfast, and wearing different clothes than the ones you use to sleep.
When you are already in front of the computer, first of all, it is advisable define the tasks to be tackled that day and not start working on demand. Structure tasks and establish priorities. In many cases your work will depend on other people and you will have to make a report to whoever is in charge of coordinating it. So on a daily or weekly basis ask what is expected of you. In this sense, it is interesting promote a mini-meeting with your manager what for set weekly or daily goals in order to keep your own control. In the office this conversation would take place in a more organic way and, however, now it is necessary to give it its specific place and time.
With all the information you have, you can set a time for the start of the day and another for the end. Distribute the tasks you have and give them a run time. This form of self-supervision will help you in the days after know your level of productivity and to have arguments to modify it in front of your superiors (and in front of yourself, many times, more demanding).
The breaks and unforeseen events are also part of the remote day
In this distribution of schedules Also keep in mind that there will be unforeseen events and interruptions. Measure them and take it into account for the organization of later days.
Also calculate the times when you will take breaks. It is recommended that these occur every hour-hour and a half and that they last for 5 or 10 minutes.
Report more frequently. It is important that let it be known what you are on. Remember that you work as a team. If you cannot meet the deadlines, let your superiors know as soon as possible to be able to reconfigure the day. This extra communication exercise also will help avoid isolation.
Define the times when you can be available by phone or email, but also the time you prefer not to be interrupted because the task you are requires maximum concentration.
Meeting with those at home before starting
During meetings, it is interesting that video is always used to optimize them to the maximum. The cameras on invite full attention and limit other activities that can reduce operability due to distractions. For the same reason, these meetings should be shorter and try to be as effective as possible. For it, write down the topics you want to discuss and asks for an agenda of what will be discussed.
One black hole of time in telecommuting days is the resolution of computer incidents. The support help desk It is already widely established in companies. Make sure you have located the contact with this service to quickly solve technical problems.
Finally, a reflection to improve the organization with the rest of the people with whom you live. It is being common that all members have to attend to obligations while in quarantine. The little ones with their online classes and the adults with their telecommuting. A conversation at the beginning of the conference can be interesting so that everyone is aware of the time in which the others need no noise or interruptions.
You can consult more recommendations for a better remote organization in these links: